Through the ages, in whatever culture and language, from the time they are born (and perhaps even before!) children have loved rhythm and rhyme.
There are many suggestions for some great Rhythm and Rhyme activities on YouTube and Pinterest that will keep you busy enjoying old favourites and introducing some new material.
Clapping games are another great activity that are both challenging and focussing. If you have ESL children in your class – learn the games they know in their native languages.
Even learning grammar can be done with music and song. This website is another wonderful tool – Thank you Melissa for sharing your gift!
Punctuation can be great fun when taught using Kung Fu Punctuation…. Share this with your class and soon, like me, you will find yourself using a fun common punctuation language when discussing change ups to a child's written work!
Greetings games are a fun activity to start your day:
Sung to the tune of "The Farmer in the Dell." The children stand in a circle and clap a steady beat. Then everyone sings, "_____ is here! ______ is here! It's a great day because ______ is here." The child who is named goes around the inside of the circle (walking, skipping, dancing, etc.) and greets classmates by waving or giving high-fives. Repeat to name all children.
Or
The echo greeting: Children stand in a circle. Each one takes a turn saying, "Hello, my name is _____ and I'd like to say good morning!" On the "Good morning" part, they say it in a unique way and also add gestures. For example, one might say "Good morning" in a robot voice and add robot arms. Then, the whole class echoes the voice and movement by repeating "Good morning _______" with robot voices and arms.
Books that rhyme are always popular. Where would we be without Dr Seuss? Well – here is a great idea for your reading corner! Create your own Dr Seuss chair: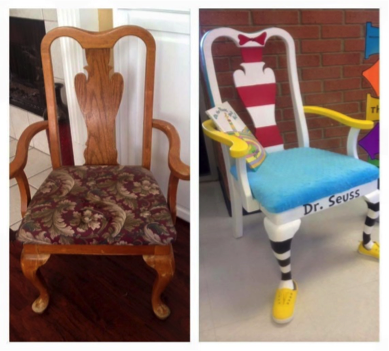 You could hang a quirky bag with some of the Dr Seuss facts and or sayings over the back for children to read!
The end of the day can be just as much fun when you use this poster: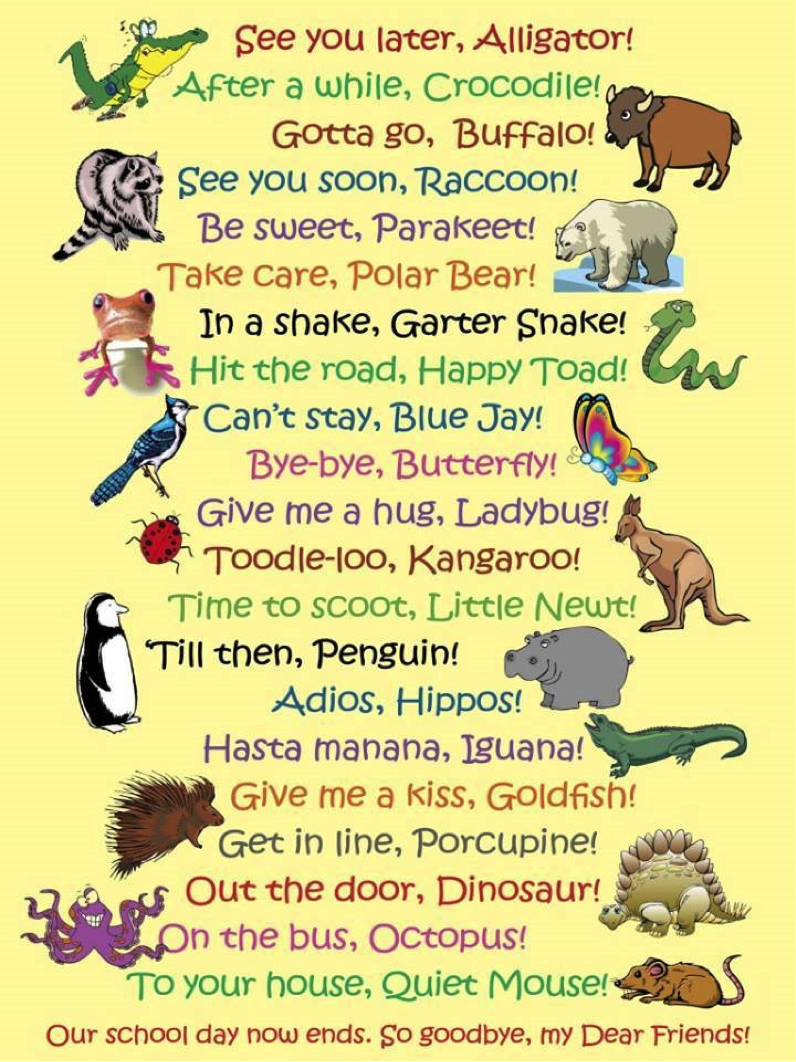 Read it in different ways:
….children draw out colours and read the line written in their colour
….read according to allocated animals
….read using the voices you think would be associated with those animals
.. .one group read the first half of the sentence – another the second half
….complicate this by random rather than sequential reading of lines…
There are so many ways to use what we know and to invent new reading habits and practices. You, as teachers, are an incredibly creative bunch. See what you can come up with in a collaborative situation! We would love you to share what works well for you. Just email us and we will acknowledge and share your ideas on our facebook page.
Thank you,
Lesley
Chief Learning Officer