What a glorious place Gisborne, New Zealand is.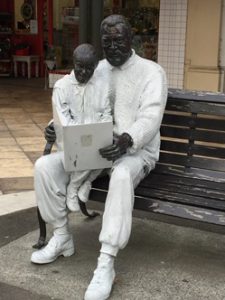 The sun rises on this city first at the beginning of each new day – so where else would we head to launch Read Think Learn in New Zealand?
The area surrounding Gisborne is full of variety.  No wonder the area is called the "Bay of Plenty".
This is what we spotted in the street as we searched for our apartment!
They certainly knew how to welcome us as kindred spirits!
Eastwood Hill Arboretum is New Zealand's National arboretum and we were there in time to enjoy the glorious autumn colours.  We saw children and teachers from a nearby school enjoying the marvelous educational experience.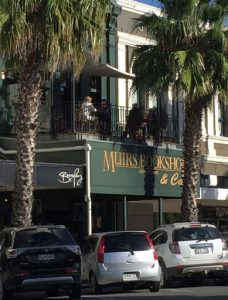 The area was also the home of Moko the Dolphin, world famous for his cheeky personality and officially in the Top 10 of Heroic Animals of all time "Time Magazine".  The wonderful children's story and illustrations in the book, "Moko the Dolphin" capture his character and record his antics. The story is true, educational and a fun read.
We found this gorgeous book at Muirs bookshop in the main street of Gisborne.  Muirs has been trading there for over 100 years and besides new books, they also have a marvelous collection of second hand books.  To top it off they have a wonderful café where you can relax with a coffee and food….and enjoy your newly purchased books!
Gisborne, thank you for your sunshine, your welcome to your city's schools and those of surrounding areas, your history, your stunning beaches and your love of books!